Hear From Our Happy Customers
Reviews & Testimonials
At Automatic Rain, your satisfaction is our priority! See for yourself what our customers have to say about working with us.
"Trustworthy Company"

The workmanship is worth it!

- Ron H.

"Work is First-Rate"

John is a consummate pro and the rest of the crew is the same.

- Jim N.

"Best Customer Service"

I will never use any other company for our sprinkler system needs.

- Annie W.

"Amazing Customer Service"

Automatic Rain has amazing customer service!

- Melissa G.

"Highly Recommend"

Very pleased with this company!

- Chris

"Will Use Again"

The pricing is competitive and the customer service was great!

- Lisa F.
Sprinkler Installation Services
Automatic Rain offers sprinkler system design and installation services. We know that every property is unique, and therefore has unique watering needs based on the features present, location, terrain, and what type of flexibility you would like. Our team can work with you to find the best solution to your watering needs and develop a system that ensures your landscape looks and feels healthy and happy all throughout the year.
We install features including:
Water lines
Backflow prevention
Valves
Valve connections
Sprinkler heads
Sprinkler controllers
Risers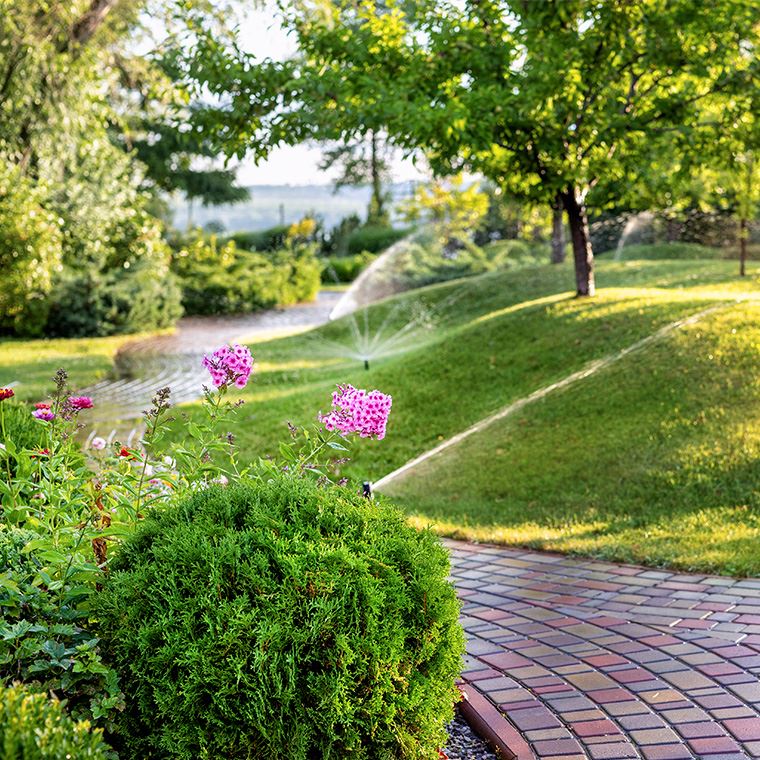 Why Choose Automatic Rain? What Makes Us Different
We pride ourselves on excellent customer service, by doing it right the first time, and it shows. Serving Wentzville, MO Since 1990
Honest Service Guaranteed

You can be confident you'll be happy when our team drives away.

Insured for Your Peace of Mind

Entrust your landscaping needs to licensed, insured professionals.

We Offer Free Estimates

We make it easy to get started with a completely free quote.
Sprinkler Repairs & Maintenance
Is a cracked or damaged sprinkler head gushing water every time your system runs? Have you noticed your water bills climb along with an unexplained wet spot on your grass? Do you find that you're watering your patio just as much as your lawn? At Automatic Rain, we offer sprinkler repair and maintenance services that keep your watering system running efficiently and smoothly.
Our mission is to keep your sprinklers working at full capacity so your yard always looks its best. Whether you need a full sprinkler head replacement, you have a faulty valve that isn't working, your controller is malfunctioning, or you've got a major leak, call us and we'll make quick work of the problem to keep your system working the right way.
Make watering your lawn and garden easy with a sprinkler system from Automatic Rain! Contact us for more information today.
What Does Spring Activation Include?

During this service, our trained technicians turn your system on and thoroughly check every major component of your irrigation system. Each sprinkler head is checked for proper performance (no leaks, proper height, etc…). Any adjustments are made at this time to ensure your lawn and landscape is efficiently and effectively watered. If required, we replace the battery in your controller and set an efficient watering program.

What Is an Annual Backflow Test?

During this service, one of our certified backflow testers tests your device to ensure it meets the performance requirements as mandated by the Missouri Department of Natural Resources and local municipal ordinances and codes. While this test is normally conducted with the Spring Activation, we can test devices anytime throughout the year.

What Is Winterization?

To protect your investment during our harsh winter months, it is absolutely critical that your system be winterized. During this service, our trained technicians turn off the water supply to your irrigation system and purge your system removing all water left in your pipes. This helps protect your heads, valves and piping from serious damage due to freezing. Like all other services, we stand behind our work. As long as your water (to the irrigation system) remains off until Spring Activation, we guarantee your system from any freeze damage provided Automatice Rain, Inc. does the Spring start-up also.